The mining industry has been the economic and social backbone of Zambia since the first major phase of exploitation of the Copperbelt's Cu-Co deposits commenced in the early 1930's. Since that time a wide spectrum of other metalliferous and non-metalliferous resources have been discovered in Zambia and, although exploitation of these has been limited, they clearly demonstrate the considerable opportunities for further exploration and mining.
Mineral Endowment
Zambia is internationally recognized as a major producer of copper and cobalt; in 1966 it ranked as the world's seventh largest producer of copper, generating 3.8% of the western world's production, and the world's second highest producer of cobalt (21.8%) behind the leading producer, D. R. Congo which sources its Cu-Co ore from the strike-extension of Zambia's Copperbelt mineralization. Significant quantities of selenium (18.6t in 1996) and silver (8.7t), together with minor gold and platinum group elements, are produced as important byproducts of the copper mining and processing.
Copper
Copper mineralization was first discovered at the turn of the century but large-scale production only commenced in the 1930's with the start-up of Roan Antelope (Luanshya – 1931), followed rapidly by Nkana (1932), Mufulira (1933), and then Nchanga in 1939. Copper production exceeded 400 000 t.p.a. in the late 1950's and passed the 600 000 t.p.a. mark in the mid-1960's before beginning a progressive decline in 1976-77 and sinking to a 1996-low of 350 000 t.p.a.
However, the move to privatization of Zambia Consolidated Copper Mines (ZCCM) should halt this decline and, with a total mineral resource of at least two billion tonnes on the Copperbelt alone, there is no doubt that copper and cobalt production will soon begin a dramatic upward trend.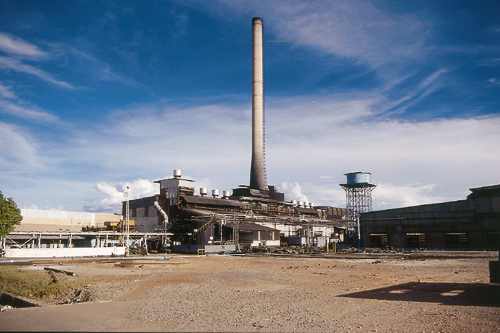 Gold
Zambia has a history of gold mining on a relatively small scale, with the twenty larger deposits having produced slightly more than 2t of gold since modern mining began in 1902. The largest past producers are Dunrobin (990kg gold), Sasare (390kg), and Matala (225kg); Dunrobin has recently been re-opened by Reunion Mining and is scheduled to produce 500-600kg gold per annum. More than 300 gold occurrences have been reported throughout the country and some of these are currently being-re-evaluated. The other important metal production has been zinc and lead from the carbonate-hosted deposits of Kabwe which, with a total of 11Mt of ore containing 40% combined zinc and lead, ranks as one of the highest grade Zn-Pb deposits of probable Mississippi Valley – type in the world. Similar styles of mineralization have been recognized over a wide area to the north of Kabwe. Check out this link and see a full picture of Lithostratigraphy.

Iron
Substantial resources of iron are known in central and western Zambia, occurring as ironstones and lesser skarn deposits but have yet to be exploited. Amongst other metalliferous occurrences reported are sedimentary and fracture-hosted manganese and orthomagmatic and shale-hosted nickel, together with tin and tungsten.
Gemstones
Alluvial diamonds have been recovered throughout Zambia, accompanied in places by indicator minerals but, despite the discovery of a number of kimberlite and lamproite intrusions, the sources of the diamonds have yet to be found. Zambia's high-quality deep green emeralds are in demand world-wide and, since 1970, have been mined continuously on the southern margin of the Copperbelt where they are hosted by pegmatite bodies. Pegmatites are also common in eastern Zambia where they have been exploited for aquamarine and tourmaline.
Industrial Minerals
A wide range of known industrial minerals in Zambia include feldspar, silica sand, talc, barite, phosphate (in carbonatite and syenite), limestone, clays (mostly ball clay and brick clay), graphite, and many varieties of possible dimension stone.
Since 1967, coal has been produced continuously by Maamba Collieries from the fault-controlled Karoo basins of southern Zambia. Production in 1997 was
164,000t but the open-pit mining operation has the potential to return to past production levels of 500,000t.p.a.
Hydrocarbons
Limited exploration for hydrocarbons to date has been unsuccessful but evaluation of existing data and re-interpretation of the sequence stratigraphy indicates significant potential in the lower and mid-Karoo sequences of the Luangwa and Mid-Zambezi graben. Follow this link to discover the latest news.

Mining and the Economy
The mining sector contributed US$822 million to the total export earnings of US$1050 million in 1997 and, of this, US$798 was realized from sales of copper and cobalt. The balance of mining-sector earnings come from sales of gold, silver, and selenium, mostly byproducts of copper mining, and from emerald sales.
The vulnerability of Zambia's economy due to its reliance on copper mining has been exposed in the very recent past by the falling copper price and by falling production as a result of limited re-investment in the mining industry. However, the privatization process has already led to significant inflow of investment to the mining sector, and a reversal of fortunes is confidently predicted for the copper mining industry within the next 2-3 years. Re-inforced by future production of additional metals and minerals, there is no doubt that the mining industry will continue to provide both a sound base and a stimulus for growth in the other sectors of the economy, leading to long-term prosperity.
Search for Mining Suppliers in Zambia
Regulatives
Newsletter to Zambia Mining Website